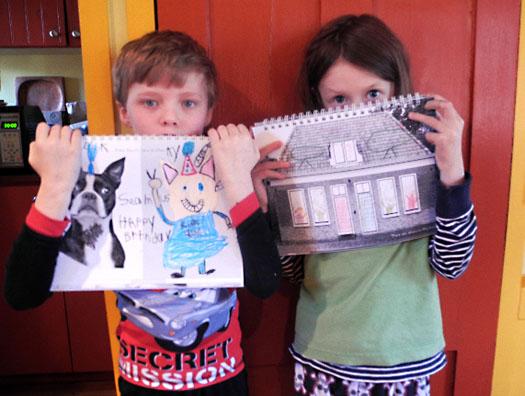 This is a photograph I received a few days ago, two cousins, Seamus and Avery, with their new Fotoplay books. It was the morning after a sleepover at their grandparents' house, and they had just completed their first pages. Avery's drawing, below, is not quite clear, but it is clear enough to see that on my page which reads "There are aliens in this house," Avery added four figures/creatures in the windows, and two nearly symmetrical spaceships on the roof. You can also see that he closed up the long white spaces and created doors. I was told that the aliens were having a party inside the house…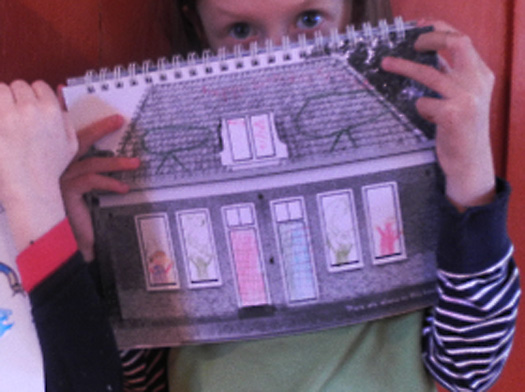 The work below is by Seamus, re-photographed and sent to me after he returned home to his parents. I was told that Seamus and Avery's Dads really are twins, and that it was Seamus' Dad's birthday. Apparently when Seamus was looking through the book to choose a page, he chose the Draw a twin brother page straight away. He added his father's name above the creature on the right (Ky) and his uncle's name (Luke) above the dog on the left. To the left of the Luke dog, there is another figure (dog?), with a vertical Happy Birthday banner.
Now, let's look more carefully at his "dad"… that outfit…the color palette…the cool gesturing hands…that classic party hat…the feeling that this Dad is dancing, celebrating his birthday full on… This is one funky double portrait.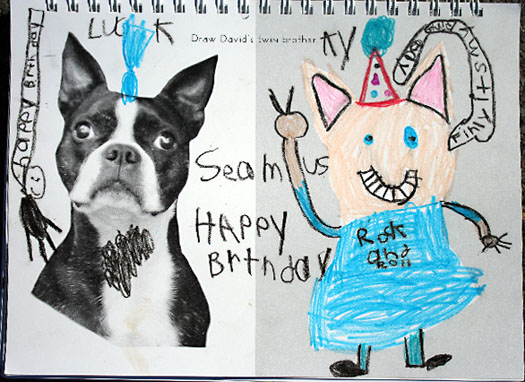 Nice work Seamus and Avery! (and Happy Birthday Ky!