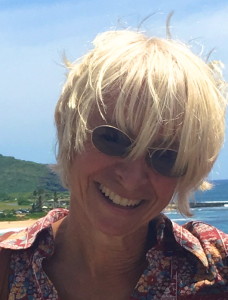 Greetings and welcome. You've found This Playground, a site I created in 2010 as a space to explore ideas about art, design, creativity, and teaching. My teaching and my writing led to my ideas for PhotoPlay, (published by Chronicle Books, March 2014), the first-of-its-kind photo-based prompt book, of which 10,000 copies sold worldwide. In October 2015, PhotoPlay was reprinted in the Netherlands: Het Enige Echte Fotodoodleboek Voor Kids.
I've been a full-time studio artist for more than thirty years: Making paintings and photographs, creating work for other people, leading workshops, receiving commissions, licensing work for publication, designing books, board games, and crosswalks. And making ceramic vessels.
An art educator and creator of ArtLab for All Ages, a hands-on program at the Center for Maine Contemporary Art, I'm also an insatiable traveler: In 2014 I began to work for Celebrity Cruises, designing itinerary-based projects to teach creative watercolor painting aboard the ships. For five years I traveled the world teaching hundreds of passengers, while creating many of my own collections of paintings inspired by the experience. In 2018, I was awarded a residency at the Millay Colony of the Arts, and my work was selected for the Biennial at the Center for Maine Contemporary Art. In 2020, a solo exhibition of paintings was on view at the Zillman Art Museum. In 2022, I was selected for a residency at the Watershed Center for Ceramic Arts.
Known for my unique ceramic vessels and paintings, and my work with the photographic negative, my art is exhibited, published, commissioned, and collected around the world.
Since 1996, I've lived and worked in a reconstructed barn, with my family, on the coast of Maine.